Hector Mora, MD, rarely saw a doctor as a child.
Until he started medical school, he didn't have health insurance. His parents, who brought him and his twin brother to the US from Chile when they were toddlers, couldn't afford it.
Mora remembers doing his homework by candlelight because ― despite working days, nights, and weekends ― his parents couldn't pay the electric bill. It was while working with them during middle school, cleaning medical offices in Naples, Florida, that Mora first thought about becoming a doctor.
After school every Tuesday and Thursday and on one weekend day each week, his mother dusted and took out the trash while his father vacuumed the women's clinic. Mora followed behind his father, mopping the just-vacuumed floor in a routine he continued through high school.
"We would walk through this long hallway with diplomas," Mora says. "I always looked at them and told myself, 'This is something I can do someday.' "
To that end, in 2012, he graduated as Naples High School's co-valedictorian, an honor he shared with his twin brother, and last year, Mora graduated from Weill Cornell Medical College in New York. Now, at 28, he's a PGY-2 primary care resident at the University of Pennsylvania and an aspiring geriatrician.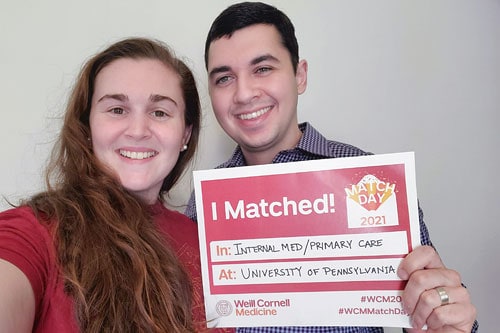 Hector Mora, MD, and his wife, Margaux.
In June, he was the lead author of a JAMA Network Open study showing that if US medical schools tripled enrollment of Black students and quadrupled enrollment of Hispanic students every year, it would still take 30 years for the physician workforce to look like the nation's populace.
Calculated another way, the number of Black and Hispanic medical students who matriculated in 2015 would have to double every year for 66 years to correct Black physician underrepresentation and every year for 92 years to correct Hispanic physician underrepresentation, Mora's research shows.
"I might not even be alive long enough to see that happen," he says.
The study's senior author, Maurice Hinson, MD, and the other authors are Black. As patients, medical students, and physicians, they and Mora have all been painfully aware of being in a minority.
In the short time since Mora earned his medical degree, patients have lobbed racist and bigoted epithets at him and have demanded to see another physician, one who is not an immigrant.
Medical schools have admitted more Black and Hispanic students in recent years. But underrepresentation is widening because the increases have failed to keep pace with the changing face of the American population, the study found.
Mentoring the Underrepresented
Mora was a medical student when he met Hinson. He then became a resident. Hinson had launched the Weill Cornell Black and Latino Men in Medicine initiative in an effort to counter the isolation he felt as one of only three Black male residents, a new doctor often mistaken for an orderly or a phlebotomist.
After attending the initiative's first Science and Leadership in Medicine conference for underrepresented high school students, Mora felt compelled to mentor youths whose families, like his, could not afford extracurricular activities, test-prep classes, or suits to wear to interviews.
Even when his family was able to see a doctor, they never saw a Hispanic doctor or even one who spoke their native language.
Today, as a resident, Mora earns an annual salary of $60,000 ― more than his parents' combined income ever totaled in a year.
How hard his parents worked drives him to do everything he can to make life easier for them and for other immigrants.
"There were times I wanted to relax, and I knew my mom and dad were cleaning their second office of the day after having worked their main job earlier," he says. "Whenever I think things are tough, I always think about all the sacrifice my parents went through really selflessly just to provide for me and my brother.
"So the least I can do is work as hard as they did and try to give back, to help them and people like them, like us," Mora says.
Mora is not one to brag, says Claiborne B. Childs, MD, associate program director of Penn's internal medicine residency program. Rather, he brings "a quiet strength" and "has this way that makes anyone he talks to feel at ease."
Hinson adds of Mora, "He's the kind of person you want on your team."
Mora plans to begin work later this year at Puentes de Salud (the name is Spanish for "Bridges of Health"), a Philadelphia free clinic primarily for underserved, immigrant, and undocumented patients.
"It's almost like a dream come true, from being my parents' translator to now being a physician for these patients who could be my parents," he says.
Helping Others to Overcome Barriers
For the first time, his parents ― who now live with Mora in a house he and his wife, Margaux, bought outside Philadelphia ― have health insurance. His father is on Medicare, and Mora pays for his mother's coverage, after the family had for years relied on free health clinics such Puentes de Salud.
Mora's parents went months without needed medications, and his mother, who lost a sister to breast cancer and has another who underwent a mastectomy and radiotherapy, was unable to undergo a mammogram for 3 frightening years.
"We came to this country because it's supposed to be the best country in the world and all of the opportunity, and yet we were having so many difficulties just trying to survive," Mora says.
His goal is to become a primary care physician and to provide personalized care to people who, like his parents, "are at the greatest risk of falling through the cracks in the healthcare system, whether it's because of a language barrier or an insurance issue or just distrust in the healthcare system for historical reasons.
"I want to be someone who can bridge that gap and help dispel some of those misconceptions, more easily gain the trust of patients so that they can stay healthy, stay out of the hospital," he says. "And hopefully, I can provide some mentoring to some of the children of these patients."
For more news, follow Medscape on Facebook, Twitter, Instagram, and YouTube.
Source: Read Full Article