Athletes who are slow to recover following a sports-related concussion can return to play with additional recovery time, new research suggests.
In a prospective observational study of more than 1700 male and female college athletes, about 75% of the slow recovery group were able to return to play within 60 days of injury, and 80% returned within 90 days of injury.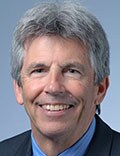 Dr Thomas Walker McAllister
"If someone isn't getting better, it doesn't necessarily mean a negative prognosis; it just means that particular individual may need more time," lead author Thomas Walker McAllister, MD, Albert Eugene Sterne Professor of Psychiatry, Indiana University School of Medicine, Indianapolis, told Medscape Medical News.
The findings were published online January 18 in Neurology.
Changing Narrative
McAllister noted that the "narrative" surrounding concussions has been evolving. Some years ago, a concussion was considered "almost a nonevent," although experts acknowledged that for a small percentage of people, the recovery trajectory was relatively long, he said.
Then, potential long-term effects of concussions, such as chronic traumatic encephalopathy, became an issue. "The narrative began to change to this generalized concern that perhaps even a single concussion may be a harbinger of downstream effects decades later," said McAllister.
And that begged the question of whether individuals who take longer to recover after a concussion are destined to develop long-term complications.
However, until now, little attention has been paid to the natural history and determinants of outcomes among athletes who recover slowly.
The new study included 1751 athletes (mean age, 19.2 years; 63% men) who had experienced a sport-related concussion at US universities and military academies. Participants were enrolled in the Concussion Assessment, Research, and Education (CARE) consortium, a 30-site study of the natural history and neurobiology of concussion.
Most of the study population (79%) participated in football, ice hockey, or another contact sport. In addition, 17% played sports with limited contact, such as baseball, and 4% participated in noncontact sports, such as golf or track. Female athletes most commonly participated in soccer, volleyball, basketball, and lacrosse. Male athletes most commonly participated in football, soccer, basketball, and wrestling.
All participants underwent a baseline evaluation that included demographics, medical history, and assessment of concussionlike symptoms, postural control, and neurocognitive functioning.
Researchers reassessed participants within 6 hours and then 24–48 hours after the injury. They were also reassessed when the athletes received clearance to initiate an exercise protocol involving increasingly more strenuous activity, called the "asymptomatic time point"; when they received clearance for unrestricted return to play (RTP); and 6 months post injury.
Participants reported symptoms up to 14 days following injury and then weekly if they had not returned to play. To capture symptoms, the investigators used the 3rd edition of the Sport Concussion Assessment Tool (SCAT-3), a 22-item list of symptoms with severity ranked on a 0–6 scale.
Slow Recovery Thresholds
Athletes were deemed to have a slow recovery if they took more than 14 days to reach the asymptomatic time point and/or more than 24 days to reach the RTP time point. These thresholds signified they were taking longer than 80% of their peers to achieve one or both recovery mileposts.
Of the total group of participants, 399 (22.8%) had a slow recovery. Compared with those who had a typical recovery, this group was significantly more likely to be female (P = .05) and to be injured in practice (P = .04).
Those in the slow recovery group appeared to have had a more severe concussion.
This group was significantly more likely than the typically recovering group to have higher initial postinjury SCAT symptom severity scores (mean score, 36.6 vs 25.4; P < .001), lower postinjury standardized assessment of concussion scores (P = .004), a worse initial balance error scoring system score (P < 0.01), and higher initial brief symptom inventory somatic, anxiety, depression, and global severity scores.
The median RTP time was 34.7 days after injury in the slow recovery group, vs 12.8 days in the overall group. In the slow recovery group, 77.6% were able to resume participation within 60 days of their concussion, and 83.4% returned to sports within about 3 months.
"It turns out, if you give people 60 days after an injury, over three quarters of them will be able to return to play, which is a very encouraging message," said McAllister.
The Kaplan-Meier curve showing the probability for successful return to play began to flatten substantially at about 60 days post concussion.
An analysis comparing those who took an extra-long time to recover (more than 74 days) with the rest of the slow recovery group found no statistically significant differences with respect to baseline measures.
The researchers note that the study was not designed to address the long-term prospects of athletes who recover slowly. "What it does do is provide athletes and coaches and athletic trainers with some pretty solid information" about the trajectory of recovery, said McAllister.
"Taking longer than somebody else to get back to play is part of the normal spectrum of concussion recovery," he said.
Study limitations that were sited included the fact that participants were all collegiate varsity athletes and so may not be representative of other age groups or levels of sport. In addition, the findings may not apply to other types of brain injury, such as those suffered in military combat.
"Powerful" Data
Commenting for Medscape Medical News, neuroscientist Jose Posas, MD, director of the Ochsner Neurology Residency Program, New Orleans, Louisiana, said the study was "very powerful" and "incredibly well done."
"This really puts in perspective the timing of recovery for concussion for these collegiate-age athletes," said Posas, who was not involved with the research.
The results provide clinicians with some "goalposts" that may help educate concussed athletes early enough to "mitigate" negative feelings, he added.
To these young athletes, taking longer to recover "may feel like a life sentence" or that their career is over, said Posas.
He noted that the study was not designed to provide "very fine, granular data" to help determine what kinds of rehabilitation might help athletes recover faster. "I think that's where the future lies," he added.
The study received support from the CARE Consortium, funded in part by the National Collegiate Athletic Association (NCAA) and the Department of Defense (DOD). McAllister has received funding from the NCAA and the DOD and support form the National Institues of Health and is an uncompensated member of the AFL Concussion Scientific Committee. Posas has disclosed no relevant financial relationships.
Neurology. Published January 18, 2023. Abstract
For more Medscape Neurology news, join us on Facebook and Twitter.
Source: Read Full Article