A Michigan physician has been indicted by a federal grand jury on charges of healthcare fraud and conspiracy to distribute controlled substances.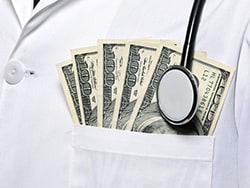 Sangita Patel, MD, 50, practiced at Advance Medical Home Physicians in Troy.
According to court documents, between July 2020 and June 2022 Patel was responsible for submitting Medicare claims for improper telehealth visits she didn't conduct herself.
Patel, who accepted patients who paid in cash as well as those with Medicare and Medicaid coverage, billed approximately $3.4 million to Medicare between 2018 and 2022, according to court documents. An unusual number of these visits were billed using complex codes, an indication of healthcare fraud. The investigation also found that on many days, Patel billed for more than 24 hours of services. During this period, according to the document, 76% of Patel's Medicare reimbursements were for telehealth.
Prosecutors say that Patel prescribed Schedule II controlled substances to more than 90% of the patients in these telehealth visits. She delegated her prescription authority to an unlicensed medical assistant. Through undercover visits and cell site search warrant data, the investigation found that Patel directed patients to contact, via cell phone, this assistant, who then entered electronic prescriptions into the electronic medical records system. Patel then signed the prescriptions and sent them to the pharmacies without ever interacting with the patients. Prosecutors also used text messages, obtained by search warrant, between Patel and her assistant and between the assistant and undercover informers to build their case.
Patel is also accused of referring patients to other providers, who in turn billed Medicare for claims associated with those patients. Advance Medical received $143,000 from these providers, potentially in violation of anti-kickback laws, according to bank records obtained by subpoena.
If convicted, Patel could be sentenced to up to 10 years in federal prison.
For more news, follow Medscape on Facebook, Twitter, Instagram, and YouTube.
Source: Read Full Article