Disposable duodenoscopes have one irrefutable advantage over their reusable counterparts: They definitively solve the problem of scope-related multidrug-resistant organism (MDRO) infections. Yet they also come with trade-offs, such as increased cost and medical waste, which has triggered pushback from skeptical endoscopists. How endoscopists weigh their differing concerns will ultimately determine the uptake of these devices going forward, according to Andrew S. Ross, MD, medical director for strategic growth at Virginia Mason Medical Center, Seattle.
"What would you pay to not have to deal with the scope infection issue at all?" Ross asked during a virtual presentation at the 2021 AGA Tech Summit sponsored by the AGA Center for GI Innovation and Technology. "I think that x-factor is going to depend [on] who you're talking to and how much they really believe in [duodenoscope-related infection] as an issue."
Ross explained that some endoscopists doubt the clinical relevance of duodenoscope-related MDRO infections, possibly because of a lack of direct experience.
"There still is a prevailing sentiment among some endoscopists that duodenoscope infection is really not a problem," Ross said. "Or [they may say,]: 'We haven't had that issue here in our medical center, so therefore it is not a problem.' "
In fact, the exact magnitude of the problem remains unknown.
"In the end, we have an unquantifiable risk to patients wherever [reusable duodenoscopes] are used," Ross said.
Just How Common Are Scope-Related MDRO Infections?
According to V. Raman Muthusamy, MD, AGAF, immediate former chair of the AGA Center for GI Innovation and Technology, and director of endoscopy at the University of California, Los Angeles Health System, scope-related MDRO infections are "relatively uncommon," but they do occur.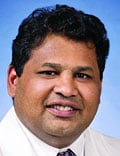 Dr V. Raman Muthusamy
MDRO infections are generally linked with contaminated endoscopes, but duodenoscopes are the most common culprit because they pose a unique risk.
"Traditionally, when outbreaks have occurred [with nonduodenoscopes], it has usually been due to a breach in the reprocessing protocol," Muthusamy said in an interview. "But with duodenoscopes, we've found that that does not appear to be necessary, and that in many cases there are no identified breaches, and yet there are still outbreaks."
Muthusamy, the first endoscopist to test a disposable duodenoscope in a human patient, noted that it's challenging to definitively prove infection from a reusable scope. Citing an Executive Summary from the Food and Drug Administration, he said, "We know it's happened 300-400 times over the past decade or so," with infection rates peaking in 2014-2016 and steadily declining since then.
Approximately 5% of reprocessed duodenoscopes harbor pathogenic bacteria, according to Muthusamy, but the rate of infection is significantly lower.
"[The use of a contaminated duodenoscope] doesn't mean a patient will actually get sick … but it does mean the potential exists, obviously," he said. "It just shows that these devices are hard to clean and a fraction of people have the potential of becoming ill. It's our goal to improve on those numbers, and really try to eliminate the risk of this problem, as best we can."
Infection Isn't the Only Concern
There are several potential ways to tackle the issue of scope-related infections, Ross said during his presentation, including designing devices that are easier to clean and optimizing the cleaning process; however, the only definitive solution is to eliminate cleaning altogether.
This is where disposable duodenoscopes come in.
At present, there are two such FDA-approved devices, the Ascope Duodeno from Ambu and the Exalt Model D from Boston Scientific, both of which Ross characterized as being "in their infancy."
Studies testing the Exalt Model D suggest that performance compares favorably with reusable duodenoscopes.
"The scope works in a benchtop model, it works in a lab, and it seems to be functional in expert hands," Ross said. "With inexperienced users, we also see that this device works, albeit with a rate of crossover that may approach up to 10%. So, a functional, disposable scope has been produced."
Despite availability, several pain points may slow adoption, Ross said, including reluctance to use new technology, skepticism about the clinical impact of scope-related infections, environmental concerns of increased medical waste, and increased cost.
On this latter topic, Ross pointed out that the true cost of a reusable scope goes beyond the purchase or lease price to include repair costs, reprocessing costs, and, potentially, the cost of litigation from scope-related infection.
"If you have an outbreak in your medical center, you can rest assured that you will have some litigation exposure," Ross said.
Fitting Disposable Duodenoscopes Into Routine Practice
Currently, both FDA-approved disposable duodenoscopes are covered by outpatient pass-through reimbursement for Medicare, and in October, both will be covered on an inpatient basis, according to Ross.
"I think the big question regarding pass-through reimbursement is what happens when the codes get revalued," he said. "How long will the additional reimbursement stay in place?"
For now, Ross suggested that endoscopists reach for disposable duodenoscopes in unique scenarios, such as weekend or night procedures, to avoid calling in a scope-reprocessing technician; or in operating room cases when the scope enters a sterile field. Disposable scopes should also be considered for patients with known MDROs, he added, and conversely, for patients who are immunocompromised or critically ill and "can least afford a scope-related infection."
Ultimately, the role of disposable duodenoscopes may be decided by the patients themselves, Ross concluded.
"Certainly, patients know about this – they may come in and demand the use of a single-use scope in certain situations," Ross said. "We have to remember when we're bringing any new technology into the marketplace that while it's important to understand the input and perspectives of multiple stakeholders, the single-most important stakeholder at the end of the day are our patients."
Ross disclosed a relationship with Boston Scientific. Muthusamy disclosed a relationship with Boston Scientific and Medivators.
This article originally appeared on MDedge.com, part of the Medscape Professional Network.
Source: Read Full Article