Save articles for later
Add articles to your saved list and come back to them any time.
In 2007, at fourteen weeks pregnant, Jana Horska miscarried in the waiting room toilet at Royal North Shore Hospital's emergency department in Sydney.
It was leaked to the press and sparked a firestorm of outrage over her treatment, or lack thereof. The furore sparked a parliamentary inquiry and, as a result, several recommendations were made around miscarriage care, including the establishment and monitoring of early pregnancy assessment services, or EPAS, in public hospitals across NSW.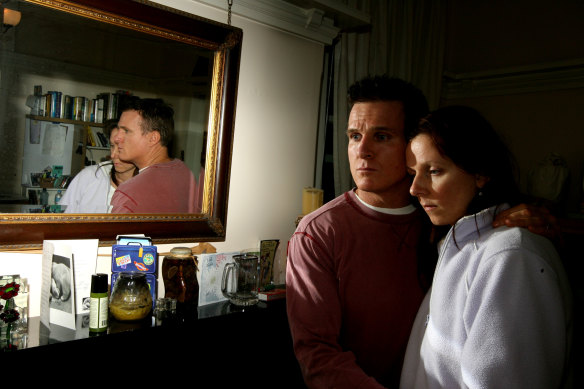 Jana Horska, who suffered a miscarriage in the toilet of the emergency department at Royal North Shore Hospital in 2007, and her partner Mark Dreyer.Credit: Ben Rushton
While progress reports were made in NSW Health's annual reports in the couple of years following the inquiry, these quickly dissipated. As did any mention of early pregnancy care. I first started investigating EPAS clinics in NSW when a well-placed source told me off-the-record that many EPAS clinics, especially in regional areas, were operating in name only and weren't being adequately staffed or resourced. I approached NSW Health asking a number of questions about EPAS clinics in the state, for instance who had oversight, how they were funded and so on. I waited six months for a response. When it finally came, the response read, 'This information is not available,' and then added the passive-aggressive afterthought, 'All the best with your book'.
One of the queries was simply, 'How many EPAS clinics are there in NSW?' And another was, 'How many public hospitals are there in NSW?' None of this information was apparently being held by NSW Health. If NSW Health doesn't know how many hospitals there are in NSW, who in the name of Saint Dolly Parton does exactly?
EPAS clinics can provide some of the best care available to patients who are miscarrying. But unfortunately, they are understaffed, under-resourced and unable to always provide the care that they should. After further investigation, I wrote a news feature for Guardian Australia on the unreliable, or in some cases non-existent, care being provided in EPAS clinics around the state. Just before the story went to print, I offered NSW Health one more opportunity to comment. They finally provided me with an actual statement to the effect of management, oversight and budgets are all the responsibility of local health districts. So they passed the buck and declared it not their problem. Big surprise. Not.
In that same article, I also told the story of Hannah, who went to an emergency department in 2021, after the hospital's EPAS clinic failed to return a multitude of calls. She was given painkillers and told, again, to call the EPAS. When the clinic finally called her back, Hannah explained that she suffers from a kidney disorder and is used to high levels of pain, but she was really struggling. She was also losing a lot of blood and concerned about being left alone. "And she [the nurse] said to me, 'Darling, it's just a miscarriage'."
Jana Horska and her partner Mark Dreyer at the public inquiry that resulted in the establishment of early pregnancy assessment services.Credit: Bryan O'Brien
This is not a problem in any way limited to NSW. I later extended this investigation into other states where there were clear examples of sub-standard care. At eight weeks pregnant in 2021, Marie started passing large clots and went to hospital in Canberra. She was told she couldn't have a scan, not even at the fetal monitoring unit, which doesn't see patients until after 12 weeks. There was nowhere else to go. 'I feel like a problem for the system,' says Marie. 'I feel like I'm inconveniencing people. The advocacy you have to go through for yourself isn't fair.'
By 14 weeks Marie was aware that something was very wrong, but made the mistake of calling and asking the fetal monitoring unit for a scan on a Friday afternoon. 'We're public servants, we only work nine to five,' the nurse told her. Two weeks later she found out her baby had stopped growing.
When Elsa started to miscarry at 12 weeks in Queensland in 2019, she attended an emergency department. She waited for several hours, watching people with minor injuries being sent through for care. She was then told it would be another three to four hours before someone would be able to see her, so she left. No one tried to give her any information or communicate with her. She miscarried her daughter Lucy at home in the shower that evening.
In a panic, totally unsure what to do, she put her daughter in a container and put the container in the freezer. She contacted a private specialist the next day and was told to come in immediately. He examined her and found that the placenta was lodged in her cervix. Had Elsa not pursued medical care, this would have led to serious complications.
So while we can see the need for a wholesale shift in the way emergency department staff care for and treat patients experiencing miscarriage, if they're going to be referring those patients to EPAS clinics, work must be done there too. Clinic staff need to be provided with specialist training, referral pathways for psychosocial support and specialist obstetric staff to back up the staff midwives and nurses. Some EPAS clinics in this country do have all of those things, but they are few and far between. This must be prioritised nationally as a matter of urgency.
Beyond the gaps in care, there are also deficits created when the systems don't talk to each other. These systemic issues are broadly applicable across medicine but can compound emotional and physical trauma when it comes to miscarriage care.
Stella was told in the 14th week of her pregnancy that her daughter Frankie had Down syndrome. The Melbourne hospital's genetic counselling service treated her with compassion and kindness. But before she could decide whether she wanted to proceed with the pregnancy or not, a scan at 16 weeks confirmed the baby had died in utero.
It was then, in her distraught state, that Stella was told she would have to exit the hospital system and re-enter via the emergency department, essentially starting her hospital journey from scratch. She waited for hours in the emergency department with no communication, surrounded by pregnant women and newborns, only to be told upon admission that she would have to wait another week for a D&C to end the pregnancy. Eventually, she had the procedure, but three weeks later, at 20 weeks, she was sent a text message reminder that she was due for her 20-week scan. 'There were just all these ways that the system didn't link up, they really let the whole experience down, which is a real shame,' she explains.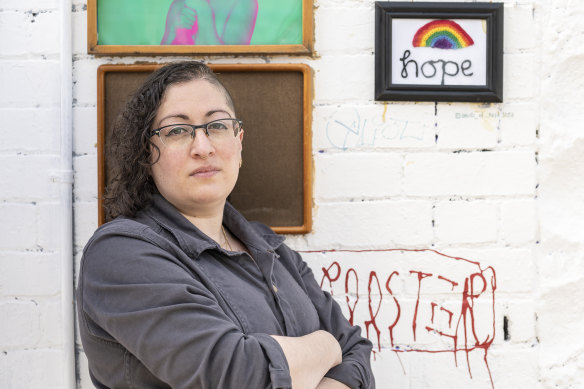 Isabelle Oderberg has documented instances where women who have had miscarriages were sent reminders for check-ups as if they were still pregnant.Credit: TJ Garvie
This is a common issue among people who experience early pregnancy loss. There is no flag system to notify the various health touchpoints that they are at risk of miscarriage or indeed no longer pregnant. So they're often subjected to reminders and notifications because there's no way to extract their information. The systems don't talk to each other.
When Alice found out she was pregnant with her second child, she attended her GP clinic and was referred to the local private hospital. But before she got the letter from the hospital confirming her first appointment, she started to bleed. She knew something was wrong. Her GP referred her for an ultrasound, but being too early for a definitive diagnosis, she was asked to come back in two weeks. The bleeding increased and her follow-up ultrasound confirmed a complete miscarriage. It was while she was grieving that she received a letter from the hospital to attend her first appointment for a pregnancy that no longer existed.
In some hospitals overseas, medical notes of people who have experienced loss are indicated with a sticker on their file. This is particularly important for pregnancies after loss so medical professionals are aware they may be dealing with a patient who is experiencing PTSD or elevated anxiety. I'm not aware of any hospitals in Australia at the time of writing who use this simple and zero-cost technique.
Another systemic issue that compounds trauma for miscarriage patients is the location of the services they attend. I've been active in online miscarriage support groups for over eight years. I hear one complaint repeatedly: when dealing with a threatened or confirmed miscarriage, the last thing you want is to be seated in a room with heavily pregnant patients. It's been described to me as a form of 'mental torture'. According to NSW government guidelines, EPAS clinics are supposed to have a discrete waiting area, but many are located within maternity wards. Rose had a loss confirmed via ultrasound in regional NSW and was then referred to the local hospital's EPAS. They took three days to call her back. When she finally went in for her appointment, she was surrounded by pregnant women.
After a pregnancy loss, I had a follow-up with the lead obstetrician/ultrasonologist at the ultrasound clinic where I had almost all of my pregnancy scans. At the end of the consultation I asked the doctor (who I knew well) whether I could provide some feedback and he said, 'Of course.' I suggested that when a patient attends for an urgent ultrasound for threatened miscarriage, they be seated in a separate area on the other side of the floor rather than in the main waiting area. Or they could even be offered to stay in the changing rooms until they were summoned for their scan. He looked at me, his face totally blank. 'Why?'
I explained that one of the most traumatic aspects of miscarriage is being seated in waiting areas next to heavily pregnant women talking about gender, names, and rubbing their bellies while you wonder to yourself, 'Why not me?', as your dreams of having a baby slip away. I said it was the complaint made more than any other in the numerous support groups I frequented. 'Huh,' he said. 'I'd never thought about it.' He expressed his gratitude for the feedback and off I went. Three years later, as I was writing this book, I checked in at the clinic to see whether any changes had been made when patients attend with threatened miscarriage. Reader, they had not.
This is an edited extract from Hard to Bear by Isabelle Oderberg, published by Ultimo Press. Isabelle will appear in Sydney on May 17 in a special event hosted by the Sydney Jewish Writers Festival.
The Morning Edition newsletter is our guide to the day's most important and interesting stories, analysis and insights. Sign up here.
Most Viewed in Lifestyle
From our partners
Source: Read Full Article